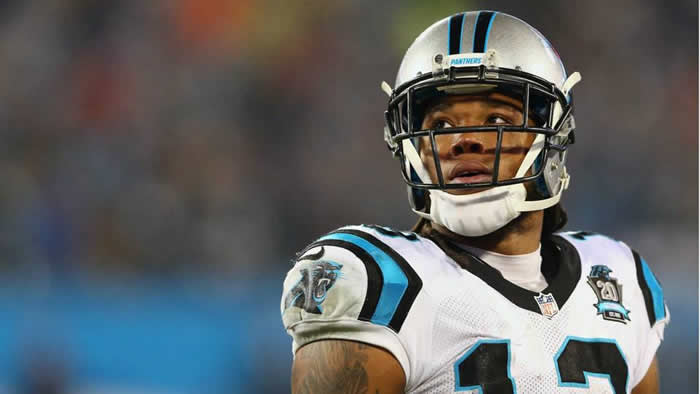 The NFL trade deadline typically does not have the intrigue or drama found in other leagues.
This year however a number of impact moves were made and "Madden NFL 18″ offers an opportunity to assess what they mean for the players and their respective new teams going forward.
Here is how each notable trade made before Tuesday's deadline is reflected in the game.
Kelvin Benjamin to Buffalo Bills
With a big need at wide receiver and in position to contend for a playoff berth the Bills made a deal right at the deadline for Kelvin Benjamin from the Panthers.
Benjamin is a fantastic video game receiver (outside of a relatively slow 86 Speed rating) given his 6-5 height and ratings near the top of the league in categories such as Spectacular Catch Catch in Traffic Jumping and Release. He becomes the No. 1 receiver for Buffalo with a rating of 85 Overall.
The Panthers now join the Redskins and Browns as the only teams without a single receiver rated 80 Overall or better.
Jimmy Garoppolo to San Francisco 49ers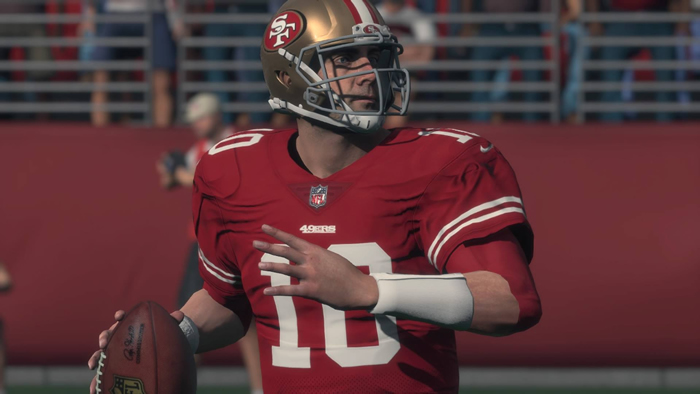 The 49ers appear to view Garoppolo as their quarterback of the future after giving up what will be a pick at the top of the second round in 2018 to get him plus the knowledge that they'll have to sign him to a big contract given his upcoming free agent status.
Garoppolo in "Madden NFL 18″ is already ranked in the top 30 QBs with a 77 Overall rating. His "Quick" development trait in Franchise Mode means he could become an above-average player.
Garoppolo has only started two games in his career though which explains why he has never been able to break out of that range where all inexperienced QBs reside in "Madden."
IYER: Garoppolo trade a win-win for Pats 49ers
Jay Ajayi to Philadelphia Eagles
The Eagles will now feature a backfield made up of Ajayi (86 Overall) and LeGarrette Blount (85 Overall). That should allow the workload on Blount to be reduced while Ajayi picks up the carries that had been going to Wendell Smallwood and rookie Corey Clement.
The Falcons are the only other team in the league that currently features a pair of running backs in "Madden" rated 85 Overall or better.
Duane Brown to Seattle Seahawks
It's difficult to imagine a more ideal upgrade from a glaring weakness for any team in the NFL.
Seattle goes from having the worst starting left tackle (with a rating of 65 Overall) to the fifth best at the position. Granted Rees Odhiambo is a guard who was forced to take over at LT following an injury to the original starter but he struggled mightily there ranking 73rd in the video game behind all other starters many backups and free agents.
Brown who stands at 86 Overall returned from his holdout last week to play well in his first game of the season against the team he now joins. When plugging him the biggest improvements in critical individual attributes are +24 Awareness +15 Pass Block and +14 Run Block.
MORE: Brown an early Thanksgiving for Wilson
Marcell Dareus to Jacksonville Jaguars
The Jaguars lead the league in sacks and are on pace to threaten the record for most sacks in a season. They made their defensive line even better by picking up Dareus who is rated 83 Overall making him their top-rated player on the interior.
Jacksonville now has four players rated over 80 on the defensive line led by Calais Campbell and his 93 Overall rating.
From the announcement of EA Sports we know that The Madden 18 release date is August 25th. As is known to all The Madden NFL 18 Coins is an essential element in the game. Other than spending precious time in farming coins the players like to Buy NFL Coins online. Being one of the most classic game NFL always attracted a large numbers of players' attention. In order to well play in the upcoming NFL 18 we suggest you buy cheap Madden 18 Coins on Mmocs.com.