NBA 2K18 fans who have been impatiently awaiting news on MyTeam can rest easy.
On Friday, 2K announced the return of the MyTeam feature with two very important new modes. The trailer below covers them on a high level, but read on to see a summary of the linked developer blog, as well as my thoughts on each of the new features.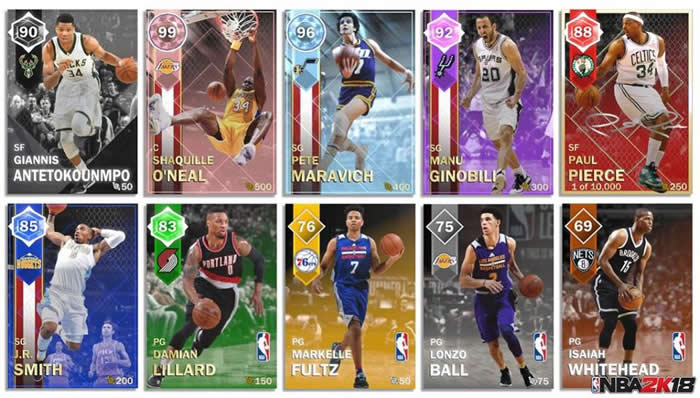 MyTeam will finally feature a draft mode called Pack and Playoffs.
There are elements from other collection modes and some totally unique features that could really set this draft concept apart from others.
You begin by picking a coach, and according to the developer blog, this is a very important choice. Your coach will dictate the system you run. The all-new system proficiency system affects how well your players perform in a coach's scheme.
You'll want to be sure to draft players who fit into the system that your coach likes to run. For example, if you're like Phil Jackson and you try to force players who don't fit into the Triangle into that system, you won't get the best out of your roster.
You'll have five position players to start, and these guys are the ones you should try to marry with your coach's system. You'll fill out your roster with pack openings. That's pretty exciting and different than say Madden 18's MUT Draft.
This accentuates the excitement of pack openings throughout the draft process.
Once you have your team set, you'll begin play against other drafted teams. Here's another exciting twist. Your team will compete in best-of-seven elimination-style competitions.
You won't play the same team in a series, but it will take four wins to advance to the next round, or your team can be eliminated and sent back to restart after four losses.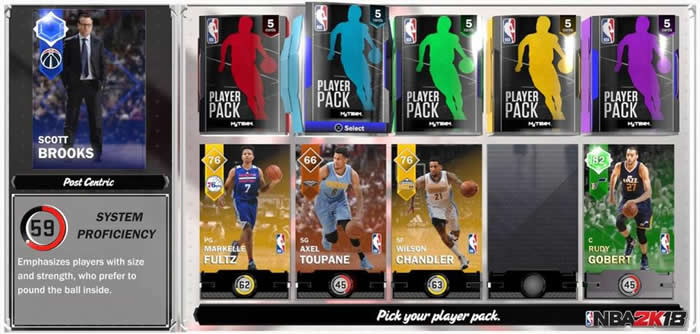 After each round, you'll be prompted to re-draft your team, but you can use VC to retain players from your original team that you don't want to lose. That's never been done in any collector draft mode, to my knowledge.
It seems like a perfect way to make the draft concept a deeper, more rewarding experience that gets you more attached to your team and players.
Another new mode under the MyTeam umbrella is called Super-Max. It's a much-needed salary-cap based feature that could help to level the playing field and add more competitiveness to MyTeam.
It's an online, season-play concept that will set a salary cap for all online players. Fans will have to put together the best 13-man rosters they can while staying under the salary cap for that round of play in the season.
There is a system in place to assign higher values to frequently used cards. For example, a diamond Kobe Bryant card may be circulating and prevalent in most fans' collection. If the usage reaches a certain level, that card may reach Super-Max, and thus it will eat up a great deal of your salary cap space.
That would in turn make it difficult for you to put other good players around the Black Mamba. This is the same kind of conundrum real NBA general managers face when they have to decide whether they will max out a star player.
Once you have your team set, you participate in placement matches to gauge your skill, and you'll then be put into a league with players of a similar skill level. There will be grand prizes awarded to winners of the various seasons.
In addition to the new card design that you may have noticed, there will also be a new card type. It's called Strategy cards, and it functions like an in-game power up.
During timeouts, you're able to use a strategy card to give your team a quick boost in a specific area. As you can see from the image below, the cards have different characteristics and will impact specific attributes, depending on the card.
Team owners should consider the players on their roster when choosing strategy cards. Theoretically, it seems you could select strategy cards that work well with your teams strengths and/or weaknesses. The amount of strategy cards you can bring into a game depends on the gem level of the coach on your team.
The higher the gem level, the more strategy cards that coach can carry. This could make the coach you pick in MyTeam matter as much or more than in any other collector mode.
There's new offline content too.
There will be new schedule challenges .It looks like a row of ticket stubs. You'll play a 30-game season for each team and there are 900 total challenges to complete.
There are also challenges to face and defeat 33 all-time teams, enhancements to the Auction House, a new goals screen to track your progress and guide you through your journey, more Dynamic Duos and a host of other promised features.